Hi,
for the last few months I have a problem with my electric range. I select a bake mode (bake or convection bake), select temp, and hit start. After a few seconds the range will beep at me, and telling me "Error 160". I try a few times, shift between modes, and then it works again. More often than not will I have to try multiple times to get it to work.
I called Bosch and they told me that unplugging the range for 20 minutes might help because of resetting the PCB. I did this, and it did not help. The other possible solution is to change the main board. Before I spend hundreds of Dollars on a "possible" solution I would like to see if someone here had the same issues, and knows of a proper solution.
Also, would this be the right main board? I did look up the model number on the back of the range but it didn't give me a extension (i.e. /02 or 03 or ...) Are they the correct part for all extensions?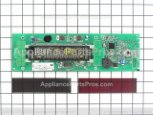 Module
by Bosch
Part Number
AP5263087