Filed Under Washer Repair
There are a couple of issues that go on with many of the Whirlpool brand direct drive models, which include KitchenAid, Kenmore, and Inglis.  These issues include a clicking noise coming from the agitator and the agitator not having full movement during the wash cycle. 
There are cogs called "dogs" and a cam between the two halves of the agitator which can wear leading to the issues described above.  Once this happens, your washer will not clean as well as it is supposed to.   In most cases these worn parts can be replaced without much cost or difficulty.
All the parts needed for this repair are included in this Agitator Repair Kit: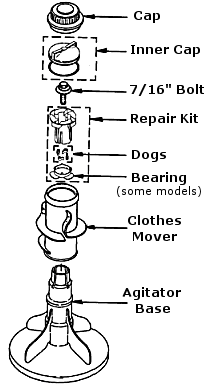 The top section(clothes mover) of the two piece agitator is removed by first pulling off the agitator cap then removing the inner cap. Underneath those there is usually a 7/16″ bolt which will need to be unscrewed. Once removed, the top agitator half can usually be pulled straight up to access the agitator kit components.
At this point you can make the repair of the defective parts.
Comments